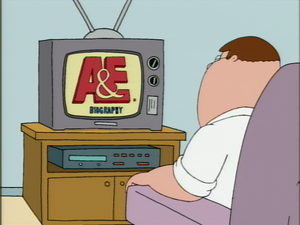 A&E is a United States-based cable and satellite television network with headquarters in Manhattan and offices in Stamford, Atlanta, Detroit, Los Angeles, Chicago, and London. A&E stands for Arts & Entertainment, which, for many years, was in the channel's full title. The network also airs in Canada and Latin America.
Peter Griffin has watched two editions of the network's signature program, Biography. The first, in "A Hero Sits Next Door", chronicled the life of Andrew Ridgeley. In "Da Boom", the life of Twinkie the Kid was chronicled.
Interestingly, two drastically different A&E logos are seen, when in the year between the two episodes, the channel's logo had not changed.
Ad blocker interference detected!
Wikia is a free-to-use site that makes money from advertising. We have a modified experience for viewers using ad blockers

Wikia is not accessible if you've made further modifications. Remove the custom ad blocker rule(s) and the page will load as expected.