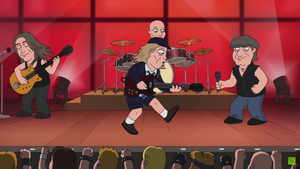 AC/DC are an Australian hard rock band, formed by brothers Malcolm and Angus Young.
In "Amish Guy", Peter sings the AC/DC song "Highway To Hell".
Their song "Back in Black" is played while Peter masters a forklift in "Peter Problems".
In "Take a Letter", Peter wonders if Stewie will have to wear a uniform like the guy in AC/DC. Brian wonders why guitarist Angus Young wears his schoolboy uniform to which Peter answers 'because he rocks.' In a cutaway gag, Angus notes that he never knew he'd have to wear it until he was sixty and that he is very cold.
Ad blocker interference detected!
Wikia is a free-to-use site that makes money from advertising. We have a modified experience for viewers using ad blockers

Wikia is not accessible if you've made further modifications. Remove the custom ad blocker rule(s) and the page will load as expected.