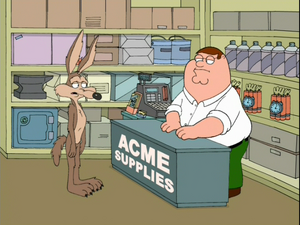 The Acme Corporation is a fictional corporation that exists in several cartoons, films and TV series, most significantly in the Looney Tunes universe. It appeared most prominently in the Road Runner/Wile E. Coyote cartoons, which made Acme famous for outlandish and downright dangerous products that fail catastrophically at the worst possible times.
Peter Griffin worked at the returns center for the company, as seen in "PTV".
Ad blocker interference detected!
Wikia is a free-to-use site that makes money from advertising. We have a modified experience for viewers using ad blockers

Wikia is not accessible if you've made further modifications. Remove the custom ad blocker rule(s) and the page will load as expected.