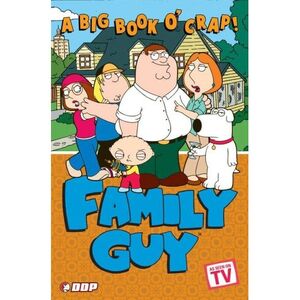 Paperback: 160 pages
Publisher: Devil's Due Publishing (November 15, 2006)
Language: English
ISBN-10: 1932796657
ISBN-13: 978-1932796650
Product Dimensions: 10 x 6.4 x 0.5 inches
Matt Fleckenstein (Author)
Description:
The Family Guy steps out of the TV screen and into a new bimonthly series from Devil's Due! Each of the three volumes collected in this series focused on one of the star characters, and their views on life... however skewed they may be! Want advice from Peter or Stewie? Probably not, but they're going to give it to you anyway! In between these hilarious one-on-one segments are stories rivaled only by the TV show itself.
Collects the previously issued books:
Ad blocker interference detected!
Wikia is a free-to-use site that makes money from advertising. We have a modified experience for viewers using ad blockers

Wikia is not accessible if you've made further modifications. Remove the custom ad blocker rule(s) and the page will load as expected.