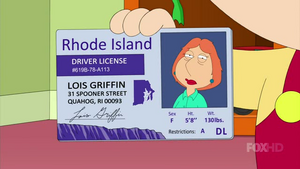 The title is a euphemism for a deep thinker.
A113 appears on Lois' license that Stewie takes to preschool in his dreams. A113 is an old animation in-joke used in several other animated movies and T.V. shows.[1]
Brian informs Glenn Close that she was very mean in her performance as Cruella De Vil in the live action version of 101 Dalmatians.
Stewie is "benched" with Phineas & Barnaby, Vern and Johnny, Fouad, Jim Kaplan, Obie and RJ.
Brian says that his mother is dead, a callback to "Road to Rhode Island" and his mother Biscuit.
Joe is seen in Peter's attic despite his wheelchair.
Stewie claims to have never had a nightmare before. However, he had a nightmare about being kidnapped by Santa Claus in "A Very Special Family Guy Freakin' Christmas".
Although pictured as a six man group in Stewie's dream, in reality, The Dovells performed with 4-5 members at various times of their career, although several different members came and went to pursue other projects.