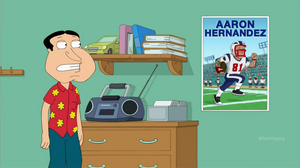 Aaron Michael Hernandez (November 6, 1989 - April 19, 2017) was an American football tight end for the New England Patriots who was held and later found guilty on murder charges.
Quagmire is surprised to find an Aaron Hernandez poster still hung up in Chris' room while searching for stolen items in "Encyclopedia Griffin".
Ad blocker interference detected!
Wikia is a free-to-use site that makes money from advertising. We have a modified experience for viewers using ad blockers

Wikia is not accessible if you've made further modifications. Remove the custom ad blocker rule(s) and the page will load as expected.