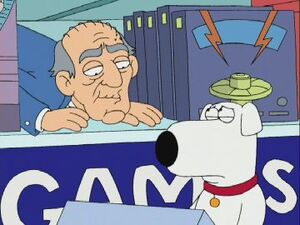 Abraham Charles "Abe" Vigoda (February 24, 1921 - January 26, 2016) was an American movie and television actor. Vigoda was well known for his portrayal of Sal Tessio in The Godfather, and for his portrayal of Detective Sgt. Phil Fish on the sitcom television series Barney Miller from 1975–1977 and on its spinoff show Fish that aired from February 1977 to June 1978 on ABC.
He appeared in "The Kiss Seen Around the World" hiding behind some games. He tells Brian Griffin to go bother Steve Guttenberg who is hiding behind the Chinese Checkers. He voiced himself.
Ad blocker interference detected!
Wikia is a free-to-use site that makes money from advertising. We have a modified experience for viewers using ad blockers

Wikia is not accessible if you've made further modifications. Remove the custom ad blocker rule(s) and the page will load as expected.