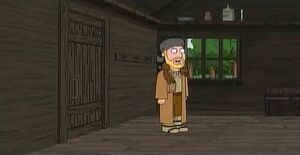 Abraham is a pioneer in part of Peter's history lessons in "Foreign Affairs". As he heads out for supplies, he says goodbye to his wife, telling her that if he doesn't die on the journey he should return in 18 months. As a favor in case his family died in the meantime he had dug graves for them in the back yard. As he opens the door to leave, he is mauled by a bear.
Ad blocker interference detected!
Wikia is a free-to-use site that makes money from advertising. We have a modified experience for viewers using ad blockers

Wikia is not accessible if you've made further modifications. Remove the custom ad blocker rule(s) and the page will load as expected.