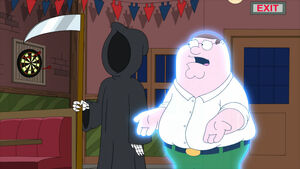 Adam Carolla is an American radio and television host, comedian and actor. He is the host of The Adam Carolla Podcast, before which he hosted a weekday morning radio program broadcast from Los Angeles and syndicated by CBS Radio until his home station changed formats. Besides these shows, Carolla was the co-host of the radio show Loveline from 1995 to 2005 and its television incarnation on MTV from 1996 to 2000, as the co-host of the television program The Man Show, and as the co-creator and performer on the television program Crank Yankers.
Carolla is the current voice of Death, taking over the role from Norm MacDonald who was unable to continue voicing the character due to other roles.
Lois compares Brian's new dental work to an even more handsome Adam in "Brian the Closer".
Ad blocker interference detected!
Wikia is a free-to-use site that makes money from advertising. We have a modified experience for viewers using ad blockers

Wikia is not accessible if you've made further modifications. Remove the custom ad blocker rule(s) and the page will load as expected.