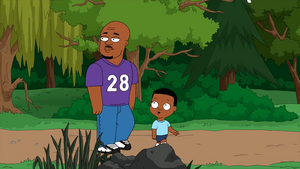 Adrian Lewis Peterson (born March 21, 1985) is an American football running back for the Minnesota Vikings of the National Football League. Peterson accepted a plea on charges of child abuse, describing using a "switch" on at least one occasion.[1]
Quagmire sets up a Cutaway gags in "Roasted Guy" when he describes Peter as being more excited than Adrian Peterson in an arboretum. As he walks through the trees with his son, he is happy to see so many things he can beat his child with.
Ad blocker interference detected!
Wikia is a free-to-use site that makes money from advertising. We have a modified experience for viewers using ad blockers

Wikia is not accessible if you've made further modifications. Remove the custom ad blocker rule(s) and the page will load as expected.