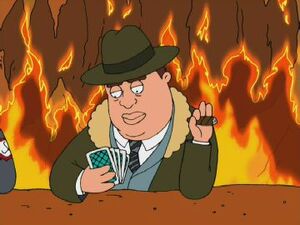 Alphonse Gabriel "Al" Capone (January 17, 1899 – January 25, 1947) was an American gangster who led a crime syndicate dedicated to smuggling and bootlegging of liquor and other illegal activities during the Prohibition Era of the 1920s and 1930s.
He is seen playing cards in Hell with Adolf Hitler, John Wilkes Booth, and Superman in "Holy Crap".
Ad blocker interference detected!
Wikia is a free-to-use site that makes money from advertising. We have a modified experience for viewers using ad blockers

Wikia is not accessible if you've made further modifications. Remove the custom ad blocker rule(s) and the page will load as expected.