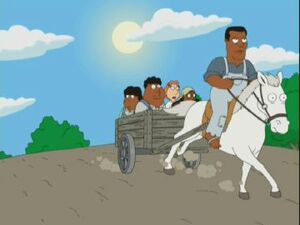 Allen G. Cowlings (born June 16, 1947) was an American football player, but is also known for his role in the saga of O.J. Simpson's murder trial. He played in the NFL between 1970 and 1979 for the Buffalo Bills, Houston Oilers, Los Angeles Rams, Seattle Seahawks, and San Francisco 49ers. Cowlings is most famous for his role in Simpson's capture on June 17, 1994, after a low-speed chase by police on Los Angeles freeways, after the murder of Nicole Brown Simpson and her friend Ronald Goldman several days before.
Cowlings helps Nate Griffin and his family escape from slavery in "Untitled Griffin Family History".
Ad blocker interference detected!
Wikia is a free-to-use site that makes money from advertising. We have a modified experience for viewers using ad blockers

Wikia is not accessible if you've made further modifications. Remove the custom ad blocker rule(s) and the page will load as expected.