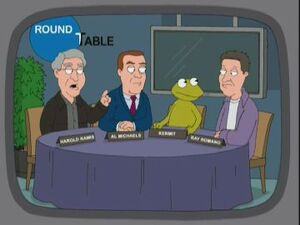 Alan Richard "Al" Michaels (born November 12, 1944) is an American television sportscaster. He is now employed by NBC Sports for their Sunday Night Football broadcasts. Prior to that, he spent nearly three decades (1977–2006) with ABC Sports, Michaels is one of the most prominent members of his profession. He is perhaps best known for his many years of calling play-by-play of National Football League games and for his broadcast of the Miracle on Ice, which culminated in the widely quoted catchphrase, "Do you believe in miracles? YES!".
He appears on the show, RoundTable, in "Mother Tucker", with Harold Ramis, Kermit the Frog, and Ray Romano.
Ad blocker interference detected!
Wikia is a free-to-use site that makes money from advertising. We have a modified experience for viewers using ad blockers

Wikia is not accessible if you've made further modifications. Remove the custom ad blocker rule(s) and the page will load as expected.