Ad blocker interference detected!
Wikia is a free-to-use site that makes money from advertising. We have a modified experience for viewers using ad blockers

Wikia is not accessible if you've made further modifications. Remove the custom ad blocker rule(s) and the page will load as expected.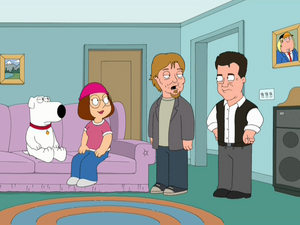 Alan Willis Jeffery (born March 1, 1947 in Kirkland Lake, Ontario), better known as Alan Thicke, is a Canadian actor, songwriter, and game and talk show host. He is best known for his role as Jason Seaver, the patriarch on the ABC television series, Growing Pains.
Though he did not appear on-screen, Thicke spoke at the '80s TV convention in "Brian Goes Back to College". It is stated he gets a lot of hate-mail.
He appears as Jason Seaver in "Not All Dogs Go To Heaven", after Meg Griffin brought Jeremy Miller in to substitute for Kirk Cameron to convert Brian to Christianity.