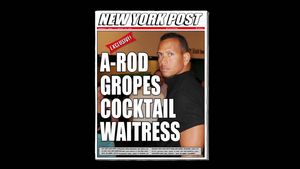 Alexander Emmanuel "Alex" Rodriguez (born July 27, 1975), nicknamed "A-Rod," is an American professional baseball third baseman and shortstop for the New York Yankees of Major League Baseball (MLB). He previously played for the Seattle Mariners and the Texas Rangers.
When Peter wins a chess championship at Washington Square Park by beating several players simultaneously in "The Most Interesting Man in the World" in a montage to demonstrate his new intelligence skills, the newspaper headlines celebrate the occasion except for the New York Post which instead focuses on A-Rod's groping of a cocktail waitress.
Ad blocker interference detected!
Wikia is a free-to-use site that makes money from advertising. We have a modified experience for viewers using ad blockers

Wikia is not accessible if you've made further modifications. Remove the custom ad blocker rule(s) and the page will load as expected.