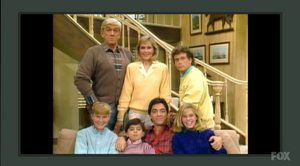 Alexander Polinsky (born October 7, 1974) is an American actor, voice actor, and singer who is perhaps best known for his role as Adam Powell on Charles in Charge. After the show ended, he has made TV, voice, and movie appearances, as well as working as a mold-maker at a movie prop design studio. He works with the Walt Disney Company, Cartoon Network, Warner Brothers, and Nickelodeon.
He appears in his role as Powell in the Charles in Charge opening theme in "New Kidney in Town". His credit scene was not shown, but was in the scene with his castmates.
Ad blocker interference detected!
Wikia is a free-to-use site that makes money from advertising. We have a modified experience for viewers using ad blockers

Wikia is not accessible if you've made further modifications. Remove the custom ad blocker rule(s) and the page will load as expected.