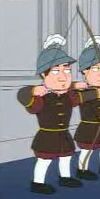 Siddig El Tahir El Fadil El Siddig Abderrahman Mohammed Ahmed Abdel Karim El Mahdi (born 21 November 1965) is a Sudanese-born English actor, also known as Siddig El Fadil and Alexander Siddig. He is known for playing Dr. Julian Bashir in the television series Star Trek: Deep Space Nine, and for his performances as Prince Nasir Al-Subaai in Syriana (2005) and as Imad ad-Din al-Isfahani in Kingdom of Heaven (2005). He has also guest starred on 24 as Hamri Al-Assad.
On Family Guy, he played in unknown role in "Patriot Games", as well as King Stewart III's lead TiVo archer in "Peter's Progress".
Ad blocker interference detected!
Wikia is a free-to-use site that makes money from advertising. We have a modified experience for viewers using ad blockers

Wikia is not accessible if you've made further modifications. Remove the custom ad blocker rule(s) and the page will load as expected.