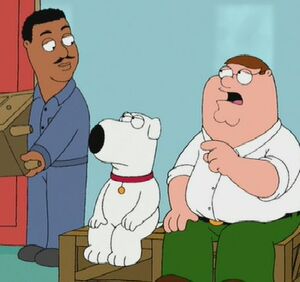 Alfonso Lincoln Ribeiro (born September 21, 1971) is an American actor, director, dancer and game show host, known for his performance in the title role of the Broadway musical, The Tap Dance Kid and the television shows Silver Spoons and The Fresh Prince of Bel-Air.
As he moved the Griffins' belongings out of their home in "A Fish out of Water", Peter and Brian both wonder whether he was on the show, Silver Spoons. They decide to ask him, and Ribeiro confirms that indeed he was.
He is voiced by Phil LaMarr.
Ad blocker interference detected!
Wikia is a free-to-use site that makes money from advertising. We have a modified experience for viewers using ad blockers

Wikia is not accessible if you've made further modifications. Remove the custom ad blocker rule(s) and the page will load as expected.