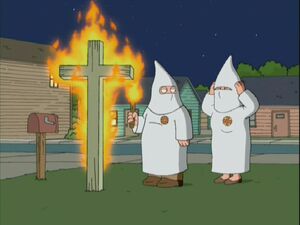 All in the Family is an American situation comedy that was originally broadcast on the CBS television network from January 12, 1971 to April 8, 1979, starring Carroll O'Connor as main protagonist Archie Bunker. All in the Family was largely cited as being the first situation comedy to present serious, controversial topics - such as racism, religion and politics - in a frank, yet humorous manner, and the show won many awards for the work of the show's writers, directors and actors. Also starring on the show was Jean Stapleton as Edith Bunker, Sally Struthers as Gloria Bunker Stivic, and Rob Reiner as Mike Stivic.
In September 1979, the show was revamped and given a new title, Archie Bunker's Place; this version of the sitcom lasted another four years, ending its run in 1983.
Seth MacFarlane reported in an episode commentary that the opening credit sequence with Peter and Lois Griffin at the piano was directly inspired by that of All in the Family where O'Connor and Stapleton sing the show's theme, "Those Were the Days".
In "Stewie Loves Lois", the ending credits of the episode parody those All in the Family nearly frame-for-frame.
In "PTV", Peter airs an "original version" of an episode, featuring Archie and Edith trying to frighten their black neighbors, the Jeffersons, into moving by donning robes worn by the Ku Klux Klan and burning a cross on their lawn. The plotline of Peter's "original" show was inspired by the 1977 episode "Archie and the KKK", wherein Archie actually tries to stop the KKK's plans to burn a cross on son-in-law Mike's lawn.
"Brian & Stewie" was inspired by two episodes of All in the Family: "Archie in the Cellar" where Archie becomes locked in the basement for an extended period of time) and "Two's a Crowd", where Archie and Mike lock themselves in the storeroom of the tavern Archie owned. Both episodes were essentially one- and two-man plays, and in the case of "Two's a Crowd," disturbing, dark secrets come to the surface. In "Two's a Crowd", Archie reveals he was physically abused by his father as a child; in "Brian & Stewie", Brian admits that, when asked about a gun he kept in his safety deposit box, he has seriously considered suicide.
In "The Father, the Son, and the Holy Fonz", Francis Griffin's desire to see grandson Stewie baptized, and eventually going behind Lois's back to do so, was inspired by the episode "Joey's Baptism".
The Griffins watch a All in the Family/Modern Family crossover episode in "The Simpsons Guy". When Claire Dunphy brings hummus, Archie jokingly points at gay couple Mitchell and Cameron claiming he thought they were the hummus.