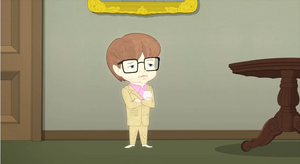 Allen Gregory is the title character of a short-lived American animated television series that aired on FOX from October 30, to December 18, 2011. The series was created by Jonah Hill, Andrew Mogel and Jarrad Paul. Alan is a pretentious seven-year-old being raised by his father, Richard, and his father's life partner, Jeremy, and Julie, an adopted daughter.
While in Italy in "Boopa-Dee Bappa-Dee", Peter Griffin attempts to use the guide on the television remote, turning Stewie into a host of past and present Animation Domination characters including Allen Gregory.
Ad blocker interference detected!
Wikia is a free-to-use site that makes money from advertising. We have a modified experience for viewers using ad blockers

Wikia is not accessible if you've made further modifications. Remove the custom ad blocker rule(s) and the page will load as expected.