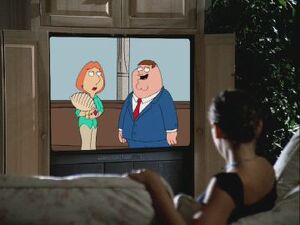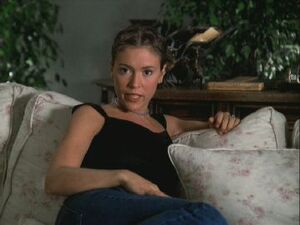 Alyssa Milano (born December 19, 1972) is an American actress who has appeared in a number of television series including Who's the Boss?, Melrose Place and Charmed. Her breakthrough role was with Arnold Schwarzenegger in the movie, Commando.
She was featured in a live-action sequence in "Mr. Griffin Goes to Washington" in which she is infuriated with Family Guy for making a joke at her expense, and asks her lawyer Joel to sue as a result, a reference to her propinquity towards potentially suing shows for featuring her name.[1]
Alyssa is the subject of a song idea tossed out by Quagmire in "In Harmony's Way", noting that he knew she was going to be hot at the age of nine.
Ad blocker interference detected!
Wikia is a free-to-use site that makes money from advertising. We have a modified experience for viewers using ad blockers

Wikia is not accessible if you've made further modifications. Remove the custom ad blocker rule(s) and the page will load as expected.