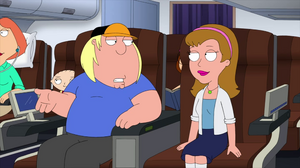 Amanda Barrington is the granddaughter of Reginald Barrington, a man whose wealth and power intimidates even Carter Pewterschmidt and owner of the Barrington Country Club.
After Peter blows a performance on America's Got Talent in "No Country Club for Old Men", Amanda strikes up a conversation with Chris on the flight home and invites him to the club with his family. When Carter gets word, he tries to use the situation to get closer to Mr. Barrington but results in getting himself thrown out of the club. When Peter tries to help him out, not only are both kicked out of the club, but Chris is forbidden from seeing Amanda again. Chris laments not getting to have sex with her, noting that rich, WASP-y girls are the best.
She is voiced by Emma Roberts.
Ad blocker interference detected!
Wikia is a free-to-use site that makes money from advertising. We have a modified experience for viewers using ad blockers

Wikia is not accessible if you've made further modifications. Remove the custom ad blocker rule(s) and the page will load as expected.