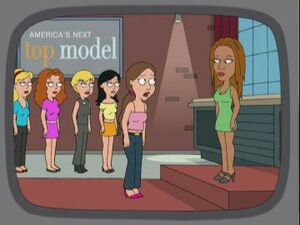 America's Next Top Model (often abbreviated as ANTM) is a reality television show in which a number of women compete for the title of America's Next Top Model and a chance to start their career in the modeling industry. The show was created and is hosted by talk-show host and model Tyra Banks, who also serves as the head judge and executive producer of the show. The first "cycle" premiered in May 2003 and was one of UPN's highest rated shows. The show's seventh cycle was the first of the shows among regular programming on UPN's successor network, The CW, and thus far is the network's highest rated series.
In "No Meals on Wheels", the Griffins watch an episode, where an enraged Banks produces a giant iguana out of her mouth, which devours a displeased Top Model contestant. This is a reference to Tyra's infamous aggressive behavior toward a misbehaving contestant.
Ad blocker interference detected!
Wikia is a free-to-use site that makes money from advertising. We have a modified experience for viewers using ad blockers

Wikia is not accessible if you've made further modifications. Remove the custom ad blocker rule(s) and the page will load as expected.