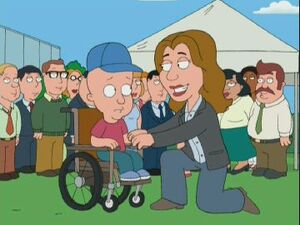 Amy Grant is an American singer-songwriter, author, media personality and occasional actress, best known for her contemporary Christian music.
In "Mother Tucker", she is seen in her show, Three Wishes, as she traveled around the country fulfilling the big wishes and dreams of some needy small-town residents. She has a man dress up as Spider-Man to give the sick boy of the episode a gift card.
In "I Dream of Jesus", Peter gets Jesus to admit he is indeed Christ by threatening to pee on a rack of Amy Grant CDs.
Ad blocker interference detected!
Wikia is a free-to-use site that makes money from advertising. We have a modified experience for viewers using ad blockers

Wikia is not accessible if you've made further modifications. Remove the custom ad blocker rule(s) and the page will load as expected.