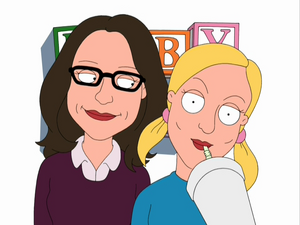 Amy Meredith Poehler (born September 16, 1971) is an American actress and comedian. She was a cast member on the NBC television entertainment show Saturday Night Live from 2001 to 2008. In 2004, she starred in the film Mean Girls with Tina Fey, with whom she worked again in Baby Mama in 2008.
In "420", Stewie Griffin bashes the plotline of Baby Mama. Fey, the woman who desires motherhood, and Poehler, who plays the surrogate, are then seen in an alternate version of the film where the baby is stillborn.
Ad blocker interference detected!
Wikia is a free-to-use site that makes money from advertising. We have a modified experience for viewers using ad blockers

Wikia is not accessible if you've made further modifications. Remove the custom ad blocker rule(s) and the page will load as expected.