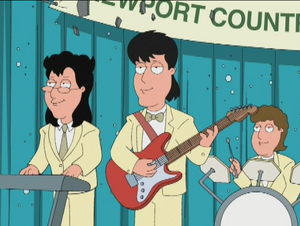 Andy is a guitarist who plays in the band that played at the Newport Country Club Dance in 1984.
In "Meet the Quagmires", Peter Griffin accidentally falls from the vents and on him, prompting Brian Griffin to replace him.
Ad blocker interference detected!
Wikia is a free-to-use site that makes money from advertising. We have a modified experience for viewers using ad blockers

Wikia is not accessible if you've made further modifications. Remove the custom ad blocker rule(s) and the page will load as expected.