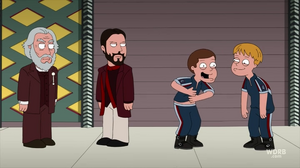 Andy is a developmentally disabled child with brown hair that President Snow decides to use when he elevates "The Hunger Games" to "The Special Hunger Games" in "The Giggity Wife". However, Andy and his opponent profess their friendship for each other.
Ad blocker interference detected!
Wikia is a free-to-use site that makes money from advertising. We have a modified experience for viewers using ad blockers

Wikia is not accessible if you've made further modifications. Remove the custom ad blocker rule(s) and the page will load as expected.