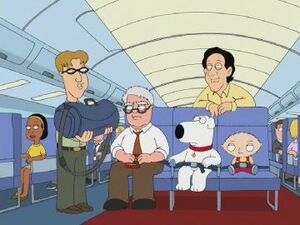 Andy Rooney (January 14, 1919 – November 4, 2011) was an American radio and television writer. He became most famous as a humorist and political commentator with his weekly broadcast A Few Minutes With Andy Rooney, formerly Three Minutes or So With Andy Rooney, a part of the CBS News program 60 Minutes since 1978.
He makes an appearance in "Road to Europe" with Andy Dick and Jerry Seinfeld on the same airplane flight as Brian and Stewie Griffin.
Andy is voiced by Mike Henry.
Ad blocker interference detected!
Wikia is a free-to-use site that makes money from advertising. We have a modified experience for viewers using ad blockers

Wikia is not accessible if you've made further modifications. Remove the custom ad blocker rule(s) and the page will load as expected.