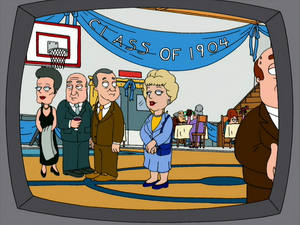 Angela Lansbury is a British-born actress and singer whose career has spanned seven decades. Lansbury is more recently known for her role as mystery writer, Jessica Fletcher, on the U.S. television series, Murder, She Wrote, a role she played from 1984 through 1996.
She appeared as Fletcher in "Brian: Portrait of a Dog" on her show in an episode the Griffins watched. Later, at the dog show, her character admitted having an abortion. She was voiced by Mary Scheer.
In "Grumpy Old Man", the Oceanside Retirement Community features a statue of Angela Lansbury.
Ad blocker interference detected!
Wikia is a free-to-use site that makes money from advertising. We have a modified experience for viewers using ad blockers

Wikia is not accessible if you've made further modifications. Remove the custom ad blocker rule(s) and the page will load as expected.