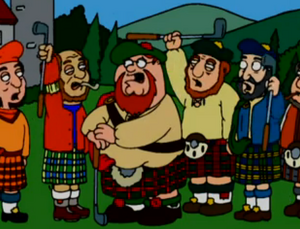 Angus Griffin is Peter Griffin's great-great uncle.
In "Brian in Love", Peter claims that Angus invented golf. Angus is then seen agreeing with other Scotsmen that they wouldn't allow Jews or blacks to play the game.
Ad blocker interference detected!
Wikia is a free-to-use site that makes money from advertising. We have a modified experience for viewers using ad blockers

Wikia is not accessible if you've made further modifications. Remove the custom ad blocker rule(s) and the page will load as expected.