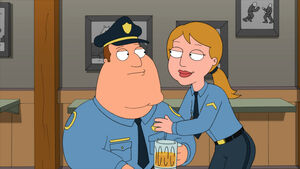 Anna Kendrick (born August 9, 1985) is an American actress, known for Up in the Air, for which she received an Academy Award nomination for Best Supporting Actress. Her other work includes The Twilight Saga, Scott Pilgrim vs. the World and Pitch Perfect and its sequel.
Anna provides the voice of Joe Swanson's new partner Nora in "Internal Affairs",
Ad blocker interference detected!
Wikia is a free-to-use site that makes money from advertising. We have a modified experience for viewers using ad blockers

Wikia is not accessible if you've made further modifications. Remove the custom ad blocker rule(s) and the page will load as expected.