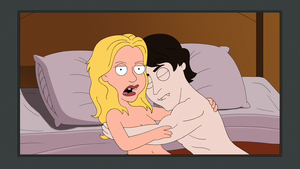 Anna Helene Paquin (born July 24, 1982) is a Canadian-born New Zealand actress. Paquin's first critically successful film was The Piano, for which she won the Academy Award for Best Supporting Actress in 1994 at the age of 11, the second youngest winner in history. Her acting career took off almost half a decade later when she appeared in a string of successful films including She's All That, Almost Famous and the X-Men franchise.
in "Lottery Fever", Paquin appears as her character Sookie Stackhouse in True Blood when Peter Griffin makes Joe Swanson locate boob scenes in the show. However, Peter objects to Paquin's appearance, claiming it doesn't count, causing an on-screen protest from Paquin during an episode of True Blood.
Ad blocker interference detected!
Wikia is a free-to-use site that makes money from advertising. We have a modified experience for viewers using ad blockers

Wikia is not accessible if you've made further modifications. Remove the custom ad blocker rule(s) and the page will load as expected.