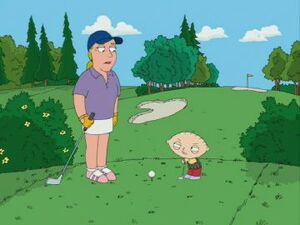 Annika Sörenstam is a Swedish professional golfer whose achievements rank her as one of the most successful golfers in history. Before "stepping away" from competitive golf at the end of the 2008 season, she won 90 international tournaments as a professional, making her the female golf player with the most wins to her name.
In "The Cleveland-Loretta Quagmire", Stewie Griffin questions Sörenstam's gender while spending time with her on a golf course.
Ad blocker interference detected!
Wikia is a free-to-use site that makes money from advertising. We have a modified experience for viewers using ad blockers

Wikia is not accessible if you've made further modifications. Remove the custom ad blocker rule(s) and the page will load as expected.