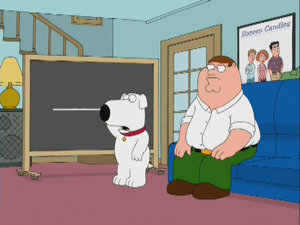 Michael Anthony Hall (born April 14, 1968), known professionally as Anthony Michael Hall, is an American actor, producer and director who starred in several teen-oriented films of the 1980s. Hall began his career in commercials and on stage as a child, and made his screen debut in 1980. His films with director-screenwriter John Hughes, beginning with the popular 1984 coming-of-age comedy Sixteen Candles, shaped his early career. Hall's next movies with Hughes were the teen classics The Breakfast Club and Weird Science, both in 1985. His performances as lovable geeks in these three films connected his name and face with the stereotype for an entire generation.
He appears on a poster for Sixteen Candles with his co-stars, Michael Schoeffling and Molly Ringwald, in "Meet the Quagmires". The poster is hung in the Griffin living room in the year 2007A, on a timeline in which Ringwald marries Peter Griffin.
Ad blocker interference detected!
Wikia is a free-to-use site that makes money from advertising. We have a modified experience for viewers using ad blockers

Wikia is not accessible if you've made further modifications. Remove the custom ad blocker rule(s) and the page will load as expected.