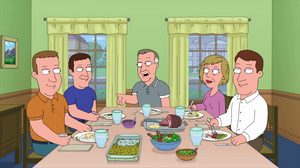 Elisha Archibald "Archie" Manning III (born May 19, 1949) is a former American football quarterback in the National Football League, playing for the New Orleans Saints from 1971 to 1982, then for the Houston Oilers and Minnesota Vikings. He is the father of professional football players Peyton Manning, Eli Manning, and former Ole Miss recruit Cooper Manning.
Archie Manning appears in "Save the Clam" when Meg uses the example of the Mannings as siblings that stick together.
Archie is voiced by Seth Green.