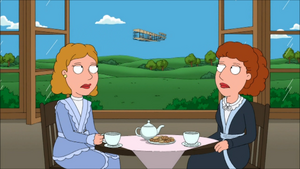 Ariel Geltman Graynor, better known as Ari Graynor, (born April 27, 1983) is an American actress. She first came to prominence as 'Caitlin Rucker' on HBO's The Sopranos. Her film credits include An American Crime. Other appearances include Veronica Mars, CSI:Miami and Fringe.
Ari is credited as "Woman" in "Amish Guy". A cutaway gag leads to two women talking about Orville Wright as he flies by and calls his ex-girlfriend a bitch, then returns and retracts the statement in order to make up.
Ad blocker interference detected!
Wikia is a free-to-use site that makes money from advertising. We have a modified experience for viewers using ad blockers

Wikia is not accessible if you've made further modifications. Remove the custom ad blocker rule(s) and the page will load as expected.