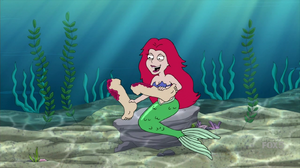 Princess Ariel is a fictional character, a mermaid, and the protagonist of Disney's 1989 animated film The Little Mermaid. She later appears in the film's prequel television series, direct-to-video sequel The Little Mermaid II: Return to the Sea, and direct-to-video prequel The Little Mermaid: Ariel's Beginning.
When Quagmire takes Joe parasailing in "Hot Pocket-Dial", he looses his legs as they are dragged through the water. Below, Ariel wishes she had a pair of legs just as his drift to her. Ariel hungrily grabs them and starts eating them, admitting that the fish part of her really wanted the legs for food.
Ad blocker interference detected!
Wikia is a free-to-use site that makes money from advertising. We have a modified experience for viewers using ad blockers

Wikia is not accessible if you've made further modifications. Remove the custom ad blocker rule(s) and the page will load as expected.