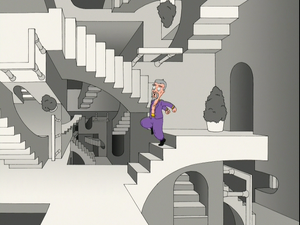 Arnold McCuller is an American vocalist, record producer, born and raised in Cleveland, Ohio. While establishing his own career as a singer, and working as a very busy session musician, McCuller has become best known for his work as a back-up singer for famous artists with long careers, including Phil Collins, Beck, and Bonnie Raitt, and Todd Rundgren.
Arnold provides the voice of M.C. Escher singing "Going Up the Stairs" in "No Meals on Wheels".
Ad blocker interference detected!
Wikia is a free-to-use site that makes money from advertising. We have a modified experience for viewers using ad blockers

Wikia is not accessible if you've made further modifications. Remove the custom ad blocker rule(s) and the page will load as expected.