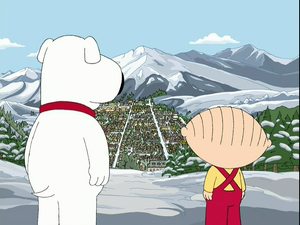 The City of Aspen is an affluent Home Rule Municipality that is the county seat and the most populous city of Pitkin County, Colorado, United States.
Aspen is the new home of Stanford Cordray and his family. He moved here from Quahog in the episode Road to Rupert. Brian and Stewie track him down after realizing they accidentally sold Rupert to him shortly before the move.
Ad blocker interference detected!
Wikia is a free-to-use site that makes money from advertising. We have a modified experience for viewers using ad blockers

Wikia is not accessible if you've made further modifications. Remove the custom ad blocker rule(s) and the page will load as expected.