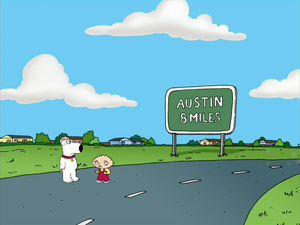 Austin is the capital of the U.S. state of Texas and the seat of Travis County. Located in Central Texas on the eastern edge of the American Southwest, it is the fourth-largest city in Texas and the 15th-largest in the United States.
It is the birthplace of Brian Griffin and was where his parents, Coco and Biscuit lived. In the seven years since Brian left, the owners, Luke and Betty are still living in Austin. Brian and Stewie went back to Austin in "Road to Rhode Island" where they found out that Biscuit had died a year before and Luke and Betty had her stuffed. Disgusted, they abducted Biscuit's stuffed body.
Ad blocker interference detected!
Wikia is a free-to-use site that makes money from advertising. We have a modified experience for viewers using ad blockers

Wikia is not accessible if you've made further modifications. Remove the custom ad blocker rule(s) and the page will load as expected.