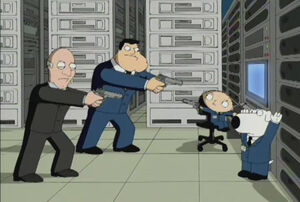 Avery Bullock is a character originating from American Dad!, one of Seth MacFarlane's other animated programs. He works for the CIA, the Central Intelligence Agency in Washington, D.C..
On Family Guy, he appears in the episode "Lois Kills Stewie", holding Brian and Stewie Griffin at gunpoint with co-worker Stan Smith.
He is voiced by and modeled after Patrick Stewart.
---