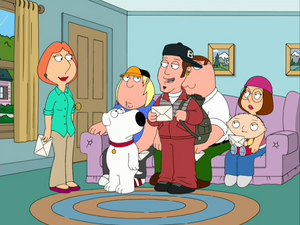 B. Ryan is a character who received an invitation to Jillian Russell's wedding in "We Love You, Conrad". Brian Griffin doesn't receive one, so Lois looks again thinking she may have missed it but finds out its addressed to B. Ryan. He had been staying with the Griffins for a few weeks until the invitation came, and then he left.
He is voiced by Alec Sulkin.
Ad blocker interference detected!
Wikia is a free-to-use site that makes money from advertising. We have a modified experience for viewers using ad blockers

Wikia is not accessible if you've made further modifications. Remove the custom ad blocker rule(s) and the page will load as expected.