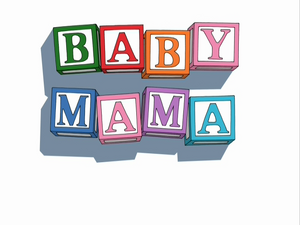 Baby Mama is a 2008 comedy film from Universal Pictures written and directed by Michael McCullers and starring Tina Fey, Amy Poehler, Sigourney Weaver, Greg Kinnear, and Dax Shepard.
When single executive Kate Holbrook (Fey) decides the time is right to finally have a baby, she hires a working-class woman (Poehler) from South Philadelphia to act as her surrogate mother.
In "420", Stewie Griffin bashes the plotline of the film. In this version of the film, the baby is stillborn.
In "Nanny Goats", Peter notes that he and Lois haven't gone out since he broke the Guinness world record for longest nasal exhale at a Tina Fey film, which the audio reveals as Baby Mama.