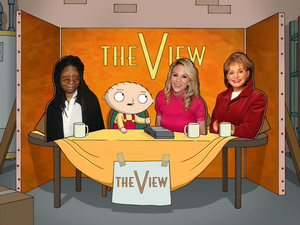 Barbara Jill Walters (born September 25, 1929) is an American broadcast journalist and author, who has hosted morning television shows Today and The View, the television newsmagazine 20/20, and co-anchor of the ABC Evening News and correspondent on ABC Evening News.
In the third "Family Guy Viewer Mail No. 1" segment, "Li'l Griffins", when the kids are flipping channels they turn to an episode of The View, featuring young versions of its hostesses at the time, Star Jones, Meredith Vieira, Joy Behar, Lisa Ling and Walters.
In Stewie Griffin: The Untold Story, Stewie Griffin took a talk show tour in between film segments including The View where he starts a melee by throwing cake in front of the women.
In the DVD cut of "Quagmire's Dad", When Brian leaves for his seminar, Stewie insists he knows how to have a good time. The scene fast-forwards to a cardboard cutout set of The View with photograph standees of Whoopi Goldberg, Walters and Elisabeth Hasselbeck set on the table.