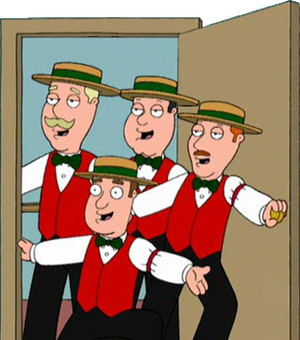 The Barbershop Quartet is a group of four men singing close harmony songs.
In The Cleveland-Loretta Quagmire, together with Peter Griffin, they delivered a devastating diagnosis to a hospital patient named Mr. Devanney through the song "You Have AIDS".
In "Sibling Rivalry" they explain to Peter what a vasectomy entails, in the song "Vasectomy".
In Road to the Multiverse they appear in a universe animated by Disney as four singing bees, joining in on a performance of "It's A Wonderful Day for Pie ".
In "Yug Ylimaf", they appear going backwards. They had just gotten back from performing "You Have AIDS".
The lead tenor is voiced by Jon Joyce, the other tenor is voiced by Bob Joyce, the baritone member is voiced by Rick Logan, and the bass member is voiced by Randy Crenshaw.
Most of the time, the quartet is not singing accurate barbershop harmony. Most of the time, the high tenor sings the melody, but in actual barbershop harmony, the melody belongs to the lower lead tenor.