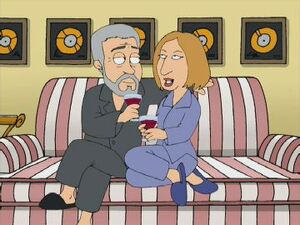 Barbra Streisand (born Barbara Joan Streisand, April 24, 1942) is an American singer and film and theater actress. She has also achieved note as a composer, liberal political activist, film producer, and director. She has won two Academy Awards, nine Grammy Awards, four Emmy Awards and a Special Tony Award. She is one of the very few entertainers to have won all of these honors, although she has yet to win a competitive Tony Award.
In "Wasted Talent", she appears with husband James Brolin. They are sitting on their couch drinking wine. Streisand's bestselling albums are hung above it.
In "Stewie Kills Lois", Brolin wants to go shopping, so Streisand supplies him with a large mound of money shot from her nose.
She also appeared in Stewie Griffin: The Untold Story segment "Stewie B. Goode" in her The Prince of Tides role. Her nose is blurred in censorship, as part of Lackluster Video's policies regarding works that don't comply with Christianity.