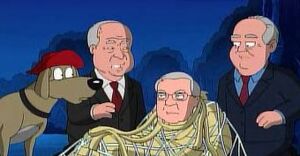 Barney Frank (born March 31, 1940) was the United States House Representative for Massachusetts's 4th congressional district from 1981 until 2013. He is a member of the Democratic Party.
In "Peter-assment", Peter Griffin mentions having a body structure similar to that of Frank.
In "Excellence in Broadcasting", Hot Dog, a parody of Scooby-Doo, John McCain and Rush Limbaugh solve a mystery where Congressman Frank is the monster behind the mask.
Frank is used as an example of a 'manly' double boy's name in "Cop and a Half-Wit", despite publicly confirming his homosexuality.
Ad blocker interference detected!
Wikia is a free-to-use site that makes money from advertising. We have a modified experience for viewers using ad blockers

Wikia is not accessible if you've made further modifications. Remove the custom ad blocker rule(s) and the page will load as expected.