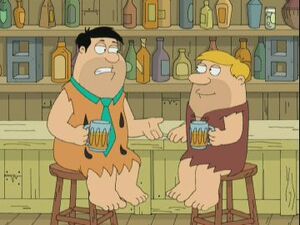 Barney Rubble was a character on the popular animated series The Flintstones.
In "Peter's Got Woods", Barney becomes Peter Griffin's best friend after Brian neglects him while dating Shauna Parks.
In "Believe It or Not, Joe's Walking on Air", he and Fred Flintstone were patrons during the Quahog Men's Club ball. Fred is talking to Barney about how, when he poked his head into Barney's house, he watched Betty undress for such a time that he ended up getting an erection. He also mentioned that Betty kept going after she spotted him.
In the song "All Cartoons are F**kin' Dicks", Peter sings about how he met Barney and he doesn't give a damn about women.
Barney was voiced by Seth MacFarlane.
External Link