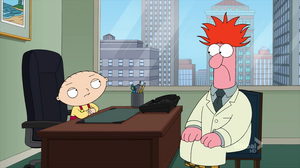 Beeker is the long-suffering lab assistant to Dr. Bunsen Honeydew on The Muppets.
In "Jungle Love", Peter Griffin declares his job at Pawtucket Brewery sucks worse than when he was Honeydew's assistant, taking the place of Beaker.
In "Brian's Play", a cutaway gag features Stewie Griffin as the Muppet human resource director that is forced to terminate Beaker when large quantities of meth ingredients go missing from the labs. As Beaker protests his innocence, a strung-out Big Bird steps in hoping to get another score.
External Links