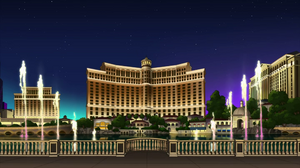 Bellagio is a luxury hotel and casino on the Las Vegas Strip in Paradise, Nevada. It is owned by MGM Resorts International and was built on the site of the demolished Dunes hotel and casino.
A lucky Brian and Stewie stay at the Bellagio during their trip to Las Vegas to see Celine Dion on "Roads to Vegas". An unlucky pair arrive to find their room is gone and are forced to stay at the Vegas Star Hotel.
While at the Bellagio, Brian hits a big jackpot, but when an enforcer for a loan shark confuses the two pairs of travelers, he shoots and kills Stewie.
Ad blocker interference detected!
Wikia is a free-to-use site that makes money from advertising. We have a modified experience for viewers using ad blockers

Wikia is not accessible if you've made further modifications. Remove the custom ad blocker rule(s) and the page will load as expected.